Hedge Trimming
Why struggle with trimming hedges and carting piles of clippings to the tip, when you can sit back and watch our experienced landscape gardeners transform them into stylish and beautifully manicured borders which compliment everything from your garden to home and neighbourhood.
When to trim hedges
For a few years after planting, a new hedge requires formative pruning which is usually carried out in winter or spring each year.
On established hedges, maintenance hedge trimming is generally carried out between spring and summer. Usually once a year for informal hedges and twice a year for formal hedges although some formal hedges, may require three cuts.
Our friendly experienced landscape gardeners are passionate about hedges, nature and beautiful gardens.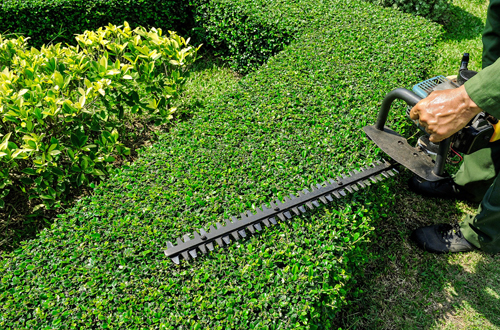 Formal hedges
Properly and regularly trimmed, a formal hedge can look magnificent, and does not need to exceed 60cm (2ft) in width.
Formal hedges are generally slightly tapered in towards the top on both sides. This allows light to reach down to the base and is referred to as "trimming the hedge to a batter".
Informal hedges
Trimming informal hedges is more like pruning. We will cut the hedge back to its original size and a natural shape, removing misplaced shoots, damaged leaves and any unwanted weeds and brambles.
Clear up
As registered and eco-friendly waste carriers we always remove and dispose of all clippings and debris in a legal and environmentally safe manner, recycling up to 99% of garden waste.
For further information or a free quotation, please give us a call. We are near to you in Potters Bar, Barnet, Enfield and North London where our experienced landscape gardeners are always pleased to offer free professional advice and chat about your Hedge Trimming requirements.